Upcoming Support groups and Workshops
Support group for Depression, Ansiety, Stress etc.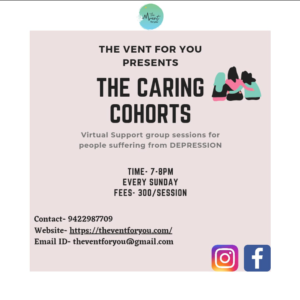 The Vent for you is now holding support group sessions for depression, anxiety, stress, and, loneliness to all across the country. 

.Do you want to seek support to cope up with these issues? Then come and seek help for the same from our certified and trained experts in the field.

Moreover, we are providing virtual services all over the country.

So, come and seek help from us and we will support you throughout. The details of the service are given in the brochure.

For queries, you can dm us or contact @+91 94229 87709

Just, Remember that we care!

Registration Link: